Click here for the PDF version of this article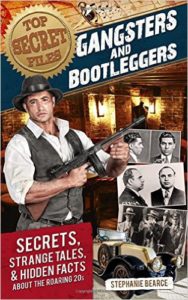 Top Secret Files: Gangsters and Bootleggers
Stephanie Bearce
Prufrock Press Inc.
Paperback, $8.95, 115 pp.
ISBN-13: 978-1-61821-461-4
Top Secret Files: The Wild West
Stephanie Bearce
Prufrock Press Inc.
Paperback, $8.95, 117 pp.
ISBN-13: 978-1-61821-462-1
Because so many Top Secret Files books by Stephanie Bearce have been reviewed in the CAG Communicator, these two books will be briefly mentioned. However, please always consider reading any Top Secret Files books that we mention. They are so wonderful and so clever and so intriguing. As in all of the Top Secret Files books, there are clever little pictures and cartoon-like appeal not just to the 12 to 14 years olds for which these books are written, but easily as appealing to adults.
There are pictures and codes and information that run down the pages. There is information that NONE OF US KNOWS about the Wild West or about Gangsters.
These books may have been written for our pre-teens and teens but are equally as fascinating to adults. I won't ever allow an adult friend to borrow Top Secret Files books for their children unless they promise to read them first. And they, indeed, do!!!
Elaine S. Wiener is Associate Editor for Book Reviews for the Gifted Education Communicator and can be reached at 17elaine@att.net.